Structural Engineering Design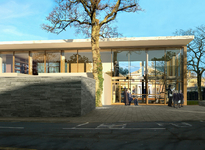 Regularly we get involved with small jobs such as a simple calculation for a beam for Building Regulation approval. In addition calculations and sketch drawings are often provided to architects for loft conversions, extensions and general alterations to houses and most types of building structures.
Prior to proceeding with planning or finalising the design we are sometimes appointed to provide Feasibility Reports to ensure what is being proposed is economically and practicably achievable from a structural point of view. Your architect then designs their scheme to suit.
In some cases where the proposed conversion is straightforward extensive investigations can be avoided. For more complex schemes with much larger applied loads, trial pits are normally required by the Building Inspector and the structural engineer to assess adequacy of existing foundations.
We also get involved with larger projects. Throughout the Island we have engineered numerous dwellings, flats, schools, shops, commercial & public buildings including St Cross Business Park, Gurnard Sailing Club, Cowes Combined Clubs premises and County Press HQ in Newport, to name but a few.